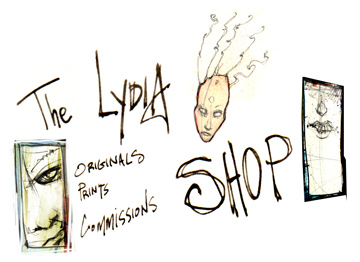 Please visit my ETSY
where here you will find originals, prints and other oddball creations.


HAVE AN EVENT?
Invite me to vend or paint live!

Contact me for requests, and I'll give you a quote: lydiaburris@gmail.com


Surprise Art Fund!
Do you just want a surprise? Donate to the Art Studio and receive a letter with art and fun bits from the studio
The more the donation, the MORE the randomness!
THIS BUTTON IS NOT FOR THE WEAK!
THIS BUTTON IS NOT FOR THE PICKY!! (Although hints are allowed!)
This button will take you to PAYPAL!





---